Discover the pore-tightening, shine-defying duo for flawless skin.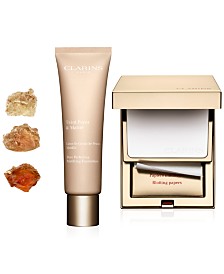 Click on the image above for more information on Clarins Pore Perfecting Matifying Collection!
Teint Pores & Matité $39
Clarins uses red clay for the first time to help minimize excess sebum. Its own color blends naturally into the foundation's pigments. The lightweight texture lets the skin breathe and instantly reveals a smoother, more even, matte complexion. 
Kit Pores & Matité $48
This travel-friendly, SOS kit will be your new BFF to enhance, smooth, and mattify your skin. You'll feel certain your complexion looks flawless, no matter what. The papers don't contain powder or fragrance, so they won't dry out the skin or smudge make-up, test proven. 
I'm Stacey Hobbs, thank you for reading. Until next time! 
Facebook: www.facebook.com/staceyhobbs24 
Twitter: www.twitter.com/staceycamacho
Instagram: www.instagram.com/staceyhobbs24
Pinterest: www.pinterest.com/staceyhobbs2407
Youtube: https://www.youtube.com/channel/UCcFIcXHqm-z9bYtg9by34WA