Valentino Patent Leather Rockstud Slingbacks in Blush C$1,370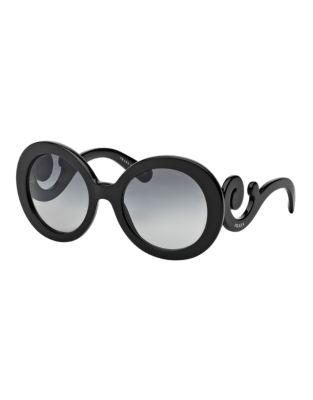 PRADA Minimal Baroque Round Sunglasses C$365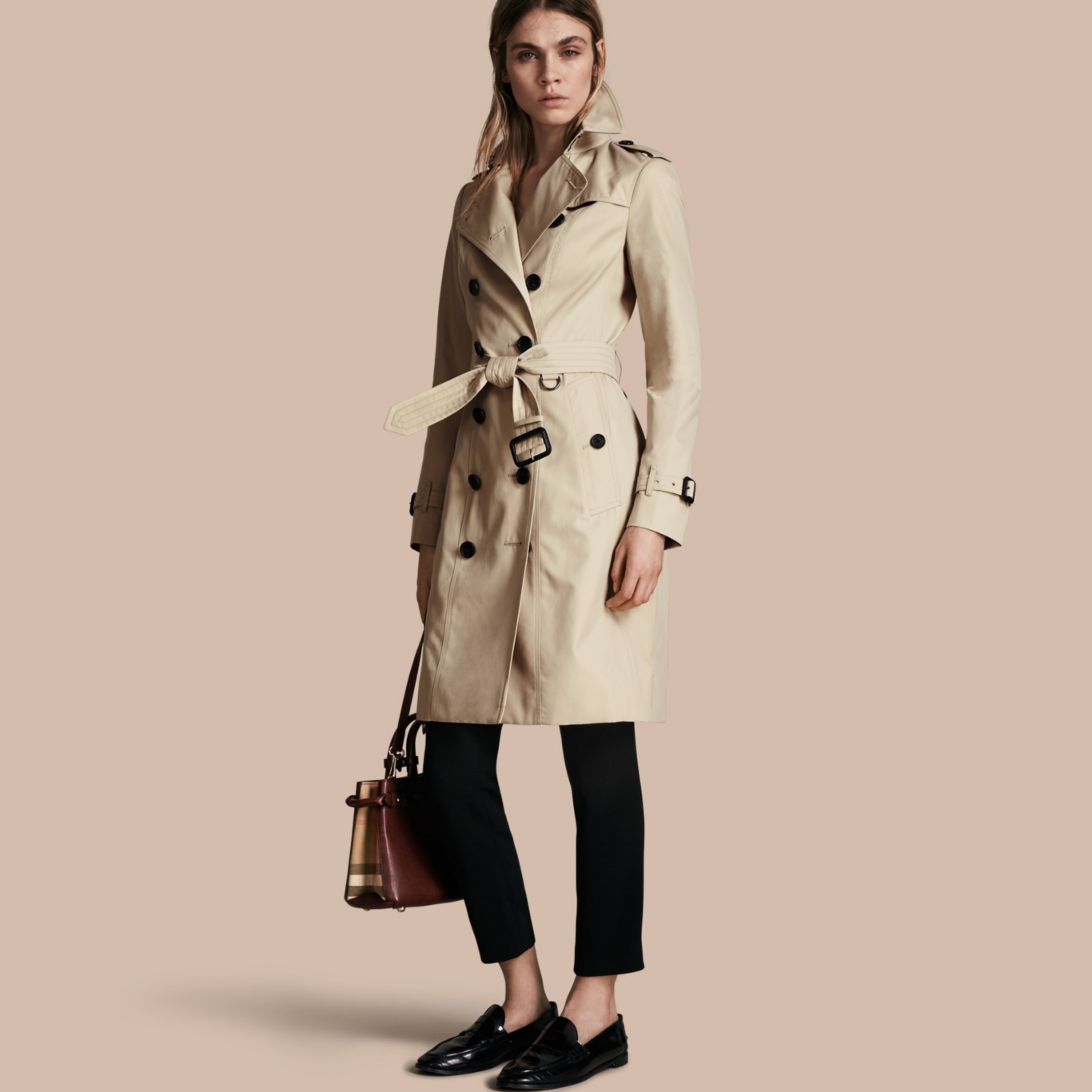 Burberry THE SANDRINGHAM – LONG HERITAGE TRENCH COAT C$2,395
The Burberry trenchcoat was famously worn by British officers in WWI. Its original design was called the Tielocken and was designed to protect military officers against harsh weather. The D-shaped belt ring was used for attaching small items such as maps. Later the coat was modified for the masses. Since then it has remained the brand's most recognizable piece. 
Chanel 2.55 C$7,075
The first bag that Gabrielle "Coco" Chanel designed in 1929 was a hand-carried, just like all other bags that were available to upper-class women during that era. However, it turned out to be an impossible task to combine the bag with a flûte champagne, theater leaflets and hors d'oeuvres. But in 1955 Coco Chanel changed handbag history with the introduction of the Chanel 2.55. It was modified for practical reasons. "I got fed up with holding my purses in my hands and losing them, so I added a strap and carried them over my shoulder," The practical 2.55 was therefore immediately a great succes. In the first year Gabrielle Chanel even had to refuse orders because of the high demand. For the first time, it was acceptable for upper-class women to carry a bag on their shoulders. 
Louboutins
The story goes that Christian Louboutin's red soles are inspired by his assistent. As she was painting her nails in a bright red color, Louboutin took the nail polish from her hands and began to paint the sole with the nailpolish. And so the bright red became the signature color of Louboutin. No other than the Princess of Monaco was his first real customer. The Princess unleashed a true rage on the red soles. The now famous Louboutins are worn by famous designers like Diane von Fürstenberg, and many celebrities.
In addition, the story of the red sole goes a little something like this: YSL and Louboutin were in court fighting to obtain the right to the trademark, as you can see Louboutin had won the lawsuit against YSL. YSL were and are unable to use this infamous trademark that is a signature of a Louboutin.
Hermes Birkin
In the 80's Jane Birkin was seated next to Jean-Louis Dumas, the CEO of Hermès, on her flight from Paris to London. Jane was complaining that she never found the perfect weekend bag. Without knowing who he was, she described to Dumas what her dream bag would look like. Shortly after their meet-up, Jane Birkin received her personalized bag with a personal note. From that moment on the Birkin became the most recognized luxury handbag in the world. To receive one of these beauties, you now have to sign your name on a waiting list. That is just as high-in-demand this Birkin weekend handbag has become. It's so in-demand, that even celebrities find themselves on the infamous Hermes Birkin wait lists with the hope of one day owning this ultra-exclusive bag. Birkin prices range from $10,500 to $150,000. My advice is to make sure you get warranty for the handbag. 
YSL Smoking Jacket
The introduction of 'Le Smoking Tuxedo' in 1966 was a turning point, allowing women to be feminine and masculine all at once. This was the first time women could acceptably wear a smoking jacket to dinner and other events. Whether worn with a t-shirt or with absolutely nothing underneath, this is a fashion staple that has withstood the test of time.
DvF Wrap Dress
Described by Vogue as a "sartorial symbol of women's sexual liberation", Diane von Fürstenberg's classic jersey wrap dress became a classic fashion piece since it launched in 1972.  Fürstenberg explained to the Los Angeles Times in 1976: "Clothes have to reflect women's liberation. Women today want versatile, simple, classic, comfortable, slimming clothes. This is the story of my success."
Dior Ballet Skirt
After WWII fashion yearned for something more frivolous, colorful and playful. Christian Dior presented just that with the voluminous ballet skirt. It contributes to the 1947 creation of the New Look. 
The Chanel Suit
In 1923 Coco Chanel invited a small group of journalists to her salon to show her new collection. One of the items of this collection was the Chanel suit. However, the journalists were far from impressed by the suit. The tweed twinset barely got a mention in reviews. But after the WWII (more precisely in the 1950's) she reintroduced the Chanel suit as we now know it. This time it was a grand succes and it became one of Chanel's most iconic creations and has influenced many look-a-likes.
I'm Stacey Hobbs, thank you for reading. Until next time! 
Facebook: www.facebook.com/staceyhobbs24 
Twitter: www.twitter.com/staceycamacho
Instagram: www.instagram.com/staceyhobbs24
Pinterest: www.pinterest.com/staceyhobbs2407